No doubt about it, big companies have advantages over small companies—their vast resources allow them to develop and refine brands, create and test marketing strategies, and explore a range of tactical approaches to achieve their goals.
Here's some good news: small companies have advantages, too—they're agile, they're hungry, and they're accustomed to change. Though they don't have stockpiles of money or armies of employees, small companies can apply the same principles and many of the techniques utilized by major corporations.
Peter Harris Creative brings big company ideas to small businesses. We enjoy sharing our ideas and insights with the for-profit companies and non-profit organizations we work with. We hope you'll join our growing family and become part of the conversation.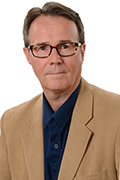 Peter Harris, President
For over 30 years, marketing consultant and creative director Peter Harris has served for-profit and non-profit clients from Austin, TX to Boston, MA. Before forming his own agency, Peter was Art Director at the East West Journal and taught at the Art Institute of Boston. He has presented at venues across the country on topics including branding and product packaging.
Peter is a member of the Hannah Grimes Business Incubator in Keene, NH. He is also a member of the Greater Keene Chamber of Commerce, VT/NH Marketing Group, and Creative Professionals Guild. He is a member of MAPS Counseling Services Board of Directors.
Peter has been recognized by the Art Directors Club of Boston, Print Magazine and the Natural Foods Merchandiser. His work appears in the book Label Designs by Lisa Walker & Steve Blount. His article on Brand Audits was published by Business NH Magazine.